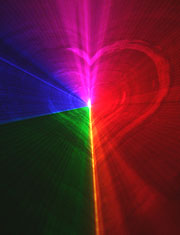 It is recommended for newly weds who have the taste for the exquisite. The shows are most enjoyable in darkness that means that during daylight a dark room is needed, the performance is to be held after sunset. Our shows are computer controlled accompanied by a desired music of required length.
She or he might surprise the other offering a special laser show accompanied by her/his favourite music, bringing into mind an unforgettable event; the bride's / bridegroom's parents can also think of this kind of surprise.
All what we need to set up the gadgets is mains of 220V 16A. If subtitles, figures, 3D images are required a special screen is needed as well, or a simple whitewashed wall. For 3D imagery a Haser fog machine is needed; the liquid used is water based and the onlookers will not notice the machine.
A bit more detailed…
Prelude:
As the music breaks in a flame appears and grows ever higher, then it turns slowly into a heart shape; the bride's and bridegroom's names can be seen and some wedding themes (champagne, rings, civil register, veil, wedding suit, flowers, hearts and so on). The names turn into a heart, and slowly it begins to throb, finally it turns into two rings that slowly intertwine.
Finale:
As the music goes on more and more wedding themes can be seen: newly weds, bridal procession, more flowers, laser confetti, congratulations. If it is required, the portraits of the newly wed are shown. This graphic block comes to an end with 3D laser beam effects to show: colourful fans, waves, and 3D geometrical figures like pyramids, square, and stars. Finally the two intertwined rings appear again, they turn into the newly wed names to conclude as a throbbing heart.
We do hope the above introduction of ours convinced you to order our laser show, this wonderful light performance of the 21st century, to make this special even in your life be more colourful.
---