This post is also available in: Hungarian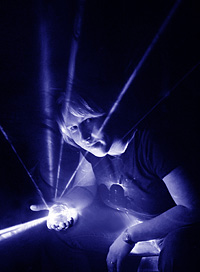 The goal of our team is to provide perfect entertainment through laser show as well as professional laser display based on your ideas. As to the accompanying music, the graphic features, the logos, and animation, we take into account your requirements. We put up laser-beam effects using computer-controlled time-code to fit it to the dynamics of the music.
We have more than ten years of experience in this field, and we use our knowledge to offer the utmost entertainment of your guests.
Our laser products are suitable for advertising and marketing activities as well as promotional campaigns; they often accompany special events, meetings, parties, and of course as disco lights, accompanying business events, village days and the like, Christmas parties, and New Year's Eve, in fact it is recommended for any event never to be forgotten, indoors or outdoors. Our laser products can be used not only as self-contained show but also for decorative purposes. Wedding parties requiring special effects are advised to have our latest production: wedding laser show.
Hermina Csömör
Laser production manager