Our laser shows are highly recommended for special occasions. The shows can be mostly enjoyed in darkness that means that during daylight dark rooms are needed; or the performance is to be held after sunset.
If necessary a laser show can be accompanied by suitable music or other special features; the limit is your imagination: any logo or feature can be produced, as well as 3D characters, or the story of a company, or even a series of historical events can be pictured.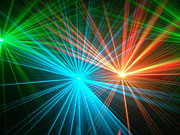 They can be used during the opening or closing event of the season, dance-parties, promotional meetings, fashion shows, discos, for special light and artistic effects, on any special occasions.
If you are interested in Theo Dary's worldwide renowned laser show you can place an order with us and have it here in Hungary.
---